Scott Beck And Bryan Woods Scaring Up New Films With 'Haunt,' 'Boogeyman'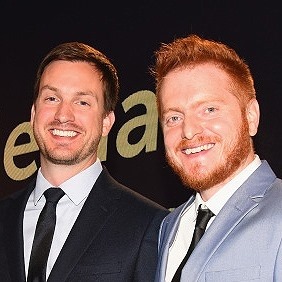 Scott Beck and Bryan Woods aren't slowing down.
The duo, who grew up making indie films since their teen years in Bettendorf, Iowa, and currently reside in Los Angeles, shot to prominence with "A Quiet Place" last year, after over a decade of under-the-radar ups-and-downs in Hollywood.
Currently, Beck and Woods are in Canada in pre-production on a new project they're "not allowed to talk about yet," that they're writing and directing. "It should be a fun one," Wood said. "I wish we could other than we're still following our heart down the horror genre that path and we think this will be another interesting thing that we do next."
The pair are happy that they've gotten the chance to forge it, after shooting to early prominence with placements in Project Greenlight and MTV Young Filmmakers contests in the mid-2000s, and moving to L.A. for over decade of projects and proposals that all looked promising but didn't quite catch fire.
"It's a hard path to forge, any path in the entertainment business can be very treacherous and difficult," Beck said.
But the duo didn't stop, and their hard work paid off with "A Quiet Place," a passion project that turned out to be the one that exploded in creative and critical success. It's also a film that very much personifies their styles, which have always tilted towards quirky and unique flicks like "Memento" and "Vanilla Sky" and the M. Night Shyamalan oeuvre.
"We always had a slight edginess about our tastes," Woods said. "We always loved movies that were always great roller coaster rides but also very thoughtful and stylish, and we love when all those elements come together."
"'Haunt,' our new film is actually very different for us because it's not a big mind-bendy crazy idea, it's a pivot for us, it's down and dirty and gritty and almost simple for us because we love those movies too," Woods added.
"Haunt" also allowed them to work again with an actor very familiar to them – Justin Marxen, who grew up with the two in Bettendorf and had been making films with them since they were all teens.
"One of the fantastic perks of being able to do this as a career is being able to be in that position to work with great people like Justin," Beck said. "We met Justin when we were 15, 16 years old, and he immediately struck us as having a great maturity as an actor and an intensity that we returned to time and time again. We didn't originally see him as the proper fit for this darker role, because Justin is such a nice gentleman and we discovered we had this bias that we couldn't get past that until we showed our producers his audition tape and they were like, 'guys, what are you thinking, hire this guy immediately.' It was really a beautiful thing to work with him again on a professional level, it felt like no time had passed, like we were still teenagers making movies with him."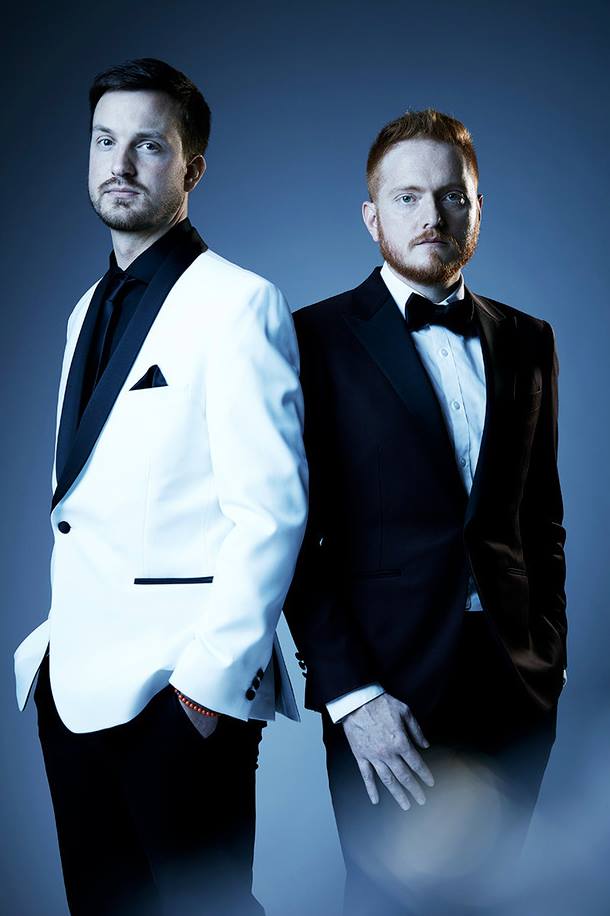 The duo began writing "Haunt" as they were writing "A Quiet Place."
"Haunt was an idea brought to us by our producer, Todd Garner, we had a TV project with him that didn't end up going forward but we had a good experience working with him and he mentioned that he always wanted to do a haunted house movie … and we thought about that, and it didn't immediately grab us, but as we started talking but as Scott and I started talking we started remembering our love of going to haunted houses with friends in Iowa," Woods said. "What we remember growing up is kind of driving out into the middle of nowhere and going to a house where a bunch of random strangers are trying to scare you. The movie ended up being a love letter to growing up in Iowa and all of the things we experienced at that time and what it was like experiencing that."
It also allowed them to work with a personal hero of theirs, Eli Roth, who produces "Haunt."
"During our formative years in Iowa, we remember devouring Eli's movies, and listening to him talk on the commentary tracks and it was like a little film school hearing him talk about the productions, and little did we know we'd get to experience that for real years later," Woods said.
"It was incredibly surreal for us, because he was the perfect ambassador, someone who has this encyclopedic knowledge of horror movies from the last 50, 60 years," Beck added. "It felt like we were teenagers again listening to a DVD commentary on how to make the best horror film possible, it was just a fantastic process working with him."
The assumption among most horror fans would be that Roth would amp up the violence in the movie, but quite the contrary, he spent far more time talking about building the characters and the setup, Beck said.
"He's so famous for the gory violence in his movies, but when you revisit his filmography you notice that his movies usually spend 35-40 minutes with the characters before anything horrible happens," Beck said. "It was great working with him, character is one of our favorite things making movies, and it was terrific working with him on that."
He's so busy, but even though he's the busiest guy in Hollywood, he was always available," Woods said. "As we move into producing more things, he's someone we really look up to and really want to follow in his footsteps."
Another surreal experience for the duo has been taking the movie on the film circuit for its various debuts. The pair were the writers on "A Quiet Place," and weren't in the same position during its various premieres, writers taking more of a back seat in Hollywood in terms of such things. But as directors of "Haunt," they were front and center, and it's been a thrill ride, they said.
"The experience is really incredible because you're able to have this celebration of this film with all your collaborators," Beck said. "It's just this culmination of everyone's effort pulling together and that's incredible to celebrate."
But when it comes down to it, the best part is watching the film with an audience, they added.
"It's incredible to watch with an audience, because like Bryan said it's kind of simple but it's like a roller coaster ride that grabs you and takes you along until the final credits," Beck said. "Watching the film play an audience like a piano is incredible because that's what Bryan and I were really going for."
"Every screening we've been to has really blown our mind, and we've been really grateful to have such great audiences," Woods said.
The two have likewise lived out some surreal moments in the wake of the success of "A Quiet Place," including having two of their idols, M. Night Shyamalan and Stephen King, heap praise on the films. It was even more strange and wonderful when they were signed on to adapt King's short story "The Boogeyman" for the screen.
What's it like to have two such iconic figures of theirs recognize them and notice and give kudos to their work?
"Between the Stephen King and M. Night Shyamalan shout-outs, it feels like we should retire," Beck said, with a laugh. "As kids, you couldn't have bigger idols than them and knowing their eyeballs have been on our work is something that's hard for us to process to this day."
"We always had 'Boogeyman' in the back of our heads, and there happened to be an opportunity to talk about a film of that, so of course we had to take it," he added. "We're huge champions of original filmmaking, we get excited about the blank page and what we can put on it. What we loved is that it is a short story, so that there was room to expand upon it and play in that playground and bring something new to the story."
So what will they bring to the new "Quiet Place" sequel, due next year?
"There's nothing we can say about the sequel," Beck said with a laugh. "It's like the other project we're working on, it's still in the top secret stage."

"We never really saw it as a sequel or a franchise starter," Woods said. "For us, again, our love is all about creating new worlds, and new splashes, which is so hard to do right now in the film business. If the success of 'A Quiet Place' granted us anything we're excited about it's not the franchise potential, it's the hope that new studios will take chances on new ideas."
That's also what they said when they had a chance to talk to LucasFilm about potentially working on new Indiana Jones and "Star Wars" movies.
"In the wake of 'A Quiet Place' we were fortunate enough to have a lot of crazy meetings and such, and one of them was a conversation about what we would do with Star Wars or Indiana Jones, and we had a great conversation with them, but ultimately what we told them and what we came to after some soul-searching is that our hearts are really dedicated to original filmmaking," Beck said. "George Lucas and Spielberg invented those movies through their sheer creativity and that's something we want to go back to the well with and find the next big ideas for ourselves."
"Our conversation with them was more about urging them to take big swings and take chances with new things, because 'Star Wars' wasn't originally a franchise until it was a franchise and Indiana Jones was something fresh and new when they made it," Woods said. "As filmgoers that's what we'd like to see when we go to the theater."
"That's what we're going to be gunning for in our career," Beck said, "as long as we're lucky enough to have the opportunity to make movies."
That's something they don't take for granted, given how hard they've worked to achieve it.
"We're proud of having gone through the ups and downs and tough times," Woods said. "For us, it's all about we just love to do this and it's always felt like whether it was going to be professionals or not or easy or hard it didn't matter because it's just what we enjoy doing, and it's because the work has always been what's been important for us.
"Whether it hits or not, it teaches you an appreciation for the work rather than what the outcome is, I think beyond that making sure you're working with great people, which is something we felt like in the Quad-Cities we were spoiled with, we always felt like we worked with such great people."
The same could be said of 'A Quiet Place,' which earned more than $200 million worldwide and gained a couple of Academy Award nods. And it all started from the two swinging for the fences, creatively.
"That film was born of passion, where we knew that even if nobody wanted to pick it up on a studio level we'd make it for $50,000 in Iowa and so to see how the movie really steamrolled to the outcome it has and it became as successful as it did was very rewarding," Beck said, "but not necessarily for the box office but more for the passion we had that paid off. We know that sometimes we go blindly into a project and it might not pay off, but to know that we can roll the dice and if you really push forward in what you believe it could potentially hit it fuels us to go off into the next big project that we're writing now that we can't talk about but it's the next big thing."
We'll look forward to seeing it.
"Haunt" is available in select theaters and digital platforms.
Sean Leary is an author, director, artist, musician, producer and entrepreneur who has been writing professionally since debuting at age 11 in the pages of the Comics Buyers Guide. An honors graduate of the University of Southern California masters program, he has written over 50 books including the best-sellers The Arimathean, Every Number is Lucky to Someone and We Are All Characters.